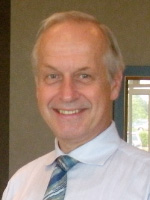 Dr. Roman Dykun has practiced facial plastic and reconstructive surgery in McHenry and Lake Counties since 1982. He attended medical school at the University of Toronto where he conducted dermatologic research on skin sensitivity to light exposure and was awarded the R.I. Harris Award for Surgery. His facial plastic surgery specialty training was also completed at the University of Toronto, where he attained Fellowship in the Royal College of Surgeons, as well as board certification in the American Academy of Otolaryngology, Head and Neck Surgery.
During his early years of practice, he was a lecturer in facial plastic surgery at Hines V.A. Hospital, affiliated with Loyola Medical Center. He has served on the Board of Directors of both Memorial Medical Center as well as Northern Illinois Medical Center, where he was also elected Vice Chairman of Surgery. Presently, he serves on the Board of Directors of the McHenry County Physicians Organization, which consists of 185 physicians who practice in McHenry, Lake and Kane Counties.
With his extensive experience, Dr. Dykun specializes in the medical and surgical treatment of skin lesions and dermatologic disorders.